I do still insist that 1997 is the biggest year for French House, but I realized that I left out some important/awesome developments that occurred in 1996.
-M
Now I can't really speak for its significance in terms of the evolution of the genre, but this did predate '97 and is just awesome. The true winner is the remix from
DJ Gregory
(my favorite track in this post), but the
I:Cube
remix is also amazing. I:Cube is another important DJ in the creation on French House, and you'll be seeing his album in one of the upcoming '97 posts.
The Mighty Bop, more commonly known as
Bob Sinclar
, was another very important name during the foundations of French House. He even had a little incident with
Thomas Bangalter
over a certain track, to be posted eventually. This particular track that I posted is very Hip-hop/Breakbeat influenced along with the funk/space influences of the French Touch and, of course, is just as cool as everything else his peers were releasing at the time.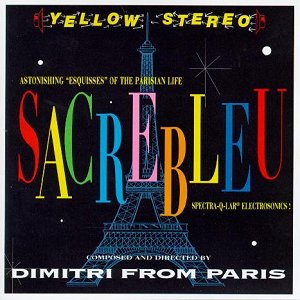 Dimitri From Paris
is so cool, that he's become the Playboy Mansions resident DJ. His style is a mix of House, Disco, Hip-hop, and Lounge. This is not really French House, but very much in line with the whole French Touch scene, almost like
Daft Punk
and
Air
had a child that decided to move to Cancun. And nobody can deny that the man has
style
.
Also, everyone should check out the blog
Ilictronix
. Great source for French House, among other stuff.