Capsule
are a Japanese electro pop music duo formed in 1997 which really have been denied on blogs (at least you can't really find anything on hypem). In either case they are awesome. Their earlier stuff that I was listening to was varying from J pop with somewhat electro beats behind it (alot of just pure J Pop). They ahve progressively become more and more influenced by electro music and it really shows in their newer albums Sunglasses Girl, Flash Back, and More More More (we can see the beginning of this trend in the album Fruit Clippers especially. Though I must admit you definitely hear the pop influences in a lot of songs, but that's fine with me). It's cool to also note that alll three of the albums (not fruit clippers) were all released in a little over a year. I still want to give a better listen to their earlier stuff and will post that later. There's some stuff I havn't found yet like their newest EP Tape + Demo + Tour or a remix album they made in 2000, and would really like to find. If I had to characterize their music, it would be strong influences by Yuksek, some shinichi (maybe), some Petits Pilous, and certain songs M83, and certain sounds really remind of Crystal Castles. I'm sure they have Japanese influences that I just have no idea about. You can thank Sean Fujiyoshi for getting me interested in looking them up (I was looking at his facebook profile and looked at his music info and other electro/techno there was capsule).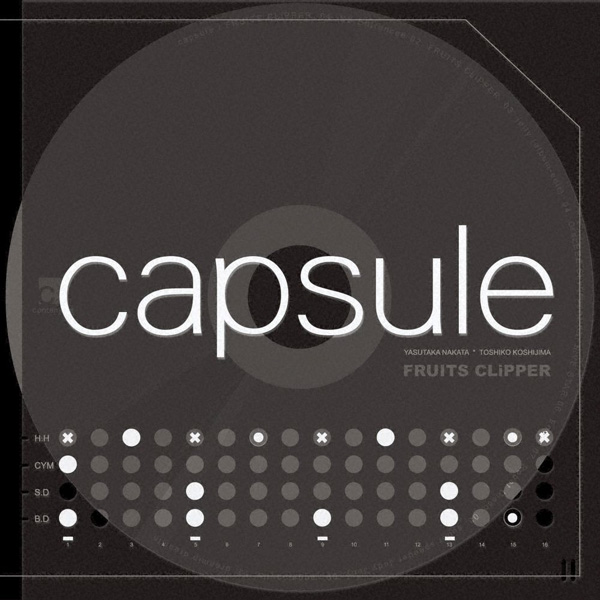 This album starts with an awesome vocoded voice which would even be good to use in a dj set to introduce yourself. The voice really marks the change that Capsule has overgone over the years. Some of the stuff on here sounds similar to their earlier stuff but we can start hearing those electro soudns in the background starting to come up, song like Fruit Clipper and dreamer dreamer have J Pop sections dropping into hardcore electro sections. Sometimes I feel like it clashes how different the sections of the songs are, but it's definitely worth a listen, I still very much enjoyed it. Still songs like Jelly and especially Megalopolis and Crazeee skyhopper (which have an actual ravey feel) are hardcore. Robot disco on the other hand has a more laidback feel kinda like Breakbot. In general this mix of more J pop stuff with electro background, and just pure mind blowing electro beats characterizes all the albums to come.
Get Fruit Clippers.
I don't really have the time right now to describe this album, I will edit this post later (someone is waiting on me). Just know it's quite good and here is the link:
The album flash back really varies from the hardcore songs like Flash Back (previously posted in one of my favorites playlists) or Mussixx and the more m83 feeling I'm feeling you, love me, and You are the reason. Its quite early to actually say, but I feel like this is my favorite of album of theirs that I have posted.
Get Flash Back
Following Flash Back we have More More More. Very similar to Flash Back but even further from their Jap pop roots as there is just banger after banger on this album. However half hte album has songs like Phantom and Pleasure Ground with a real synth pop feel kinda like MGMT mixed with J Pop with a more electro feel. I previously uploaded the song E.D.I.T. and stick by how amazing it, but really give this whole album a listen, it's incredible (the intro song runway is short but crazy). I expect to play e.d.i.t at the next party i dj cause it's crazy.
Get More More More.
EDIT:
All these albums are really worth a listen and here's a preview of their earlier stuff:
Music Controller
EDIT: I vote we remix runway off of more more more.